MEIDILAND® is a range of specially selected landscaped rose for professional and semi professional use in green spaces (parks and gardens) and urban areas (Roads and Large sets).
Color the landscape in minimal time, with minimal maintenance.
MEIDILAND® roses come in ground cover, low bushes (-1 meter) or high bushes (1 meter), or shrubs. In their C2L containers directly from cuttings, they quickly take the space, even at a late planting.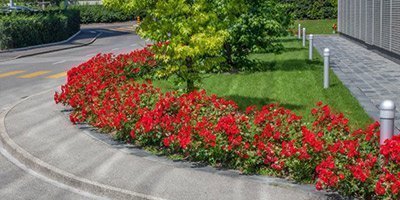 No necessary cut back
MEIDILAND® roses do not require cut back. You can use mechanized cut back to control development or rejuvenate the plants.
Spectacular blooming
MEIDILAND® roses have a flowering cycle up to 6 to 8 months from spring until frost. It is the color of green spaces.
Great Diversity
MEIDILAND® roses comes in shrub, big ground cover, creeping, compact … A large types of habits diversify for expressing color in the landscape, without complexity.
Trial Results 2015 Orléans, France Cherry BONICA® Meipeporia: Environment Award Crème CHANTILLY® Meiradena: Certificate